UPDATE: Nu har jag släppt en 1.0.1 som ska funka på 1.5 devicer också…. Se långt ned på detta inlägg för mer info.
Jag har precis släppt en ny Android-applikation på Android Market, MyBus Luleå. Den visar aktuell businformation för bussar i Luleå och användaren kan välja hållplatser och linjer som hon är intresserad av. Målgruppen är bussresenärer som åker buss ofta. Informationen uppdateras var 30e sekund.
OBS Luleå Lokaltrafik AB, LLT har inget att göra med utvecklingen av denna applikation.
Jag experimenterar även med att använda annonser i denna applikation. Främst för att lära mig mer om detta område.
Här är ett exempel på hur det kan se ut: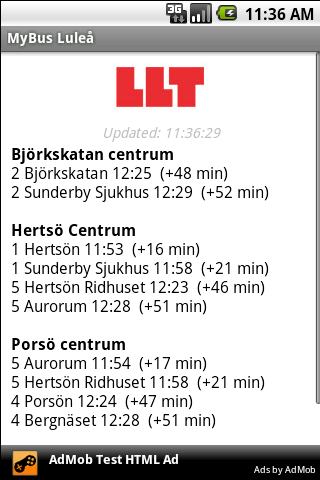 och här är en QR-kod för att installera applikationen:
Gällande 1.0.1: Tydligen så gillade inte Microsofts server som LLT kör att man inte skickade med Accept i HTTP-headern och gav då server-fel. Nu talar vi glatt om för den att vi accepterar allt och då levererar det glatt tillbaka businfo! Tydligen så var denna bug fixad i nyare Android-versioner.
Changelog: 2010-05-18: 1.0.3 Support for lower resolution devices. Better handling if bus stop page is not available or broken.2010-03-31: 1.0.2 Added bus stop caching and easier selection of bus stops.2010-02-14: 1.0.1 Now works on Android 1.5.2010-02-14: 1.0.0 Initial Release.